Water Mitigation Versus Water Damage Restoration
10/18/2022 (Permalink)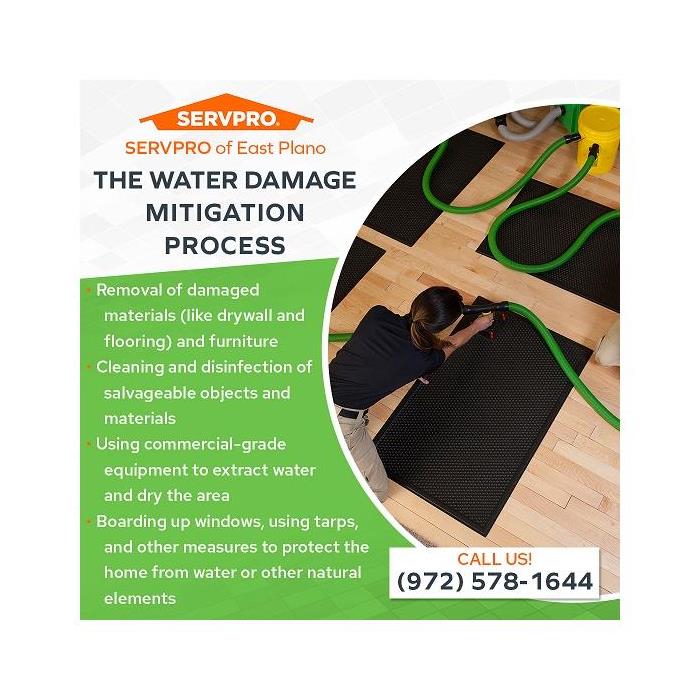 Blog Summary: SERVPRO of East Plano discusses water mitigation vs. water damage restoration.
With most property owners having to face water damage at some point, they would also need water damage restoration services. It is suitable for homeowners to know what water damage restoration is and why it is crucial. A basic understanding will ensure that they do not delay the process and that they do not do anything that would worsen water damage.
Water damage can happen suddenly without warning. The sooner that water damage is dealt with is better. Professional water damage restoration technicians assess the damage and see if just water mitigation services are enough or if to follow that with water damage restoration. The process of water damage restoration includes different steps. Though water mitigation and water damage restoration may be performed separately, they are both usually carried out by the water damage restoration team. In this article, SERVPRO® of East Plano outlines the difference between water mitigation and water damage restoration. SERVPRO is a leader in fire and water cleanup and restoration that performs water damage restoration in Plano, TX. When SERVPRO of East Plano is on the job, homeowners have the advantage of an expert with 50-plus years of experience in repair and property restoration. The professionals at SERVPRO understand how water damage impacts families or businesses and strive to restore homes or businesses to a preloss condition as swiftly as possible.
What is water damage mitigation?
Water damage mitigation is done to prevent water damage from affecting property and belongings. This is done immediately after water damage is detected and involves the removal of standing water and drying of affected areas. Specialized equipment and techniques are used by professionals during water damage mitigation. The water damage mitigation process includes the following:
Removal of damaged materials (like drywall and flooring) and furniture
Cleaning and disinfection of salvageable objects and materials
Using commercial-grade equipment to extract water and dry the area
Boarding up windows, using tarps, and other measures to protect the home from water or other natural elements are also part of water damage mitigation. For instance, a damaged roof can cause water to enter and cause further damage, so using a tarp can help. Removing debris like broken branches and loosened shingles, plugging holes, and reinforcing weak structures to prevent them from collapsing are all parts of water mitigation.
If water damage mitigation is not done correctly without delay, the expenses of replacing and repairing damaged objects will rise even more.
Water damage restoration
The repairs and building work done after water damage to restore a home or business to a preloss condition is water damage restoration. This is done after water mitigation. SERVPRO of East Plano has highly trained water damage restoration technicians who use techniques and specialized equipment to restore the property. Reconstruction and repair are done depending on the damage sustained. Water damage restoration is a multi-step process. During water damage restoration, the following may be done:
Damaged flooring and walls are replaced
Replacement or repair of damaged roofs and ceilings
Cleaning carpets, rugs, and upholstery that are not irreversibly damaged
Cleaning and disinfection of the area
Steps to reduce the risk of mold growth.
In summary, water damage mitigation is done with the primary purpose of limiting the extent of water damage. The actions in water damage mitigation are to keep the property and belongings away from harm as much as possible. It is always done first. A failure or delay in water damage mitigation can lead to more damage.
Water damage restoration is carried out after mitigation to repair the existing water damage that has already occurred. Though it is not as urgent as water mitigation, delay can still lead to secondary water damage. The water damage restoration process usually takes longer than water damage mitigation.
There is a misconception that water damage mitigation and restoration services are costly. However, water damage mitigation and restoration cost less than what it would cost if everything were replaced. Professional water damage restoration technicians at SERVPRO of East Plano work to identify and safely save salvageable items and replace them only when it is absolutely necessary. For service from IICRC-certified professionals who understand the impact of water damage on homes, businesses, and the life of customers, SERVPRO of East Plano is the right choice. Home and business owners who have problems related to water damage in Plano, TX, can contact SERVPRO of East Plano on the phone number (972) 578-1644.