How Does the Water Removal Process Work: A Short Guide
10/18/2022 (Permalink)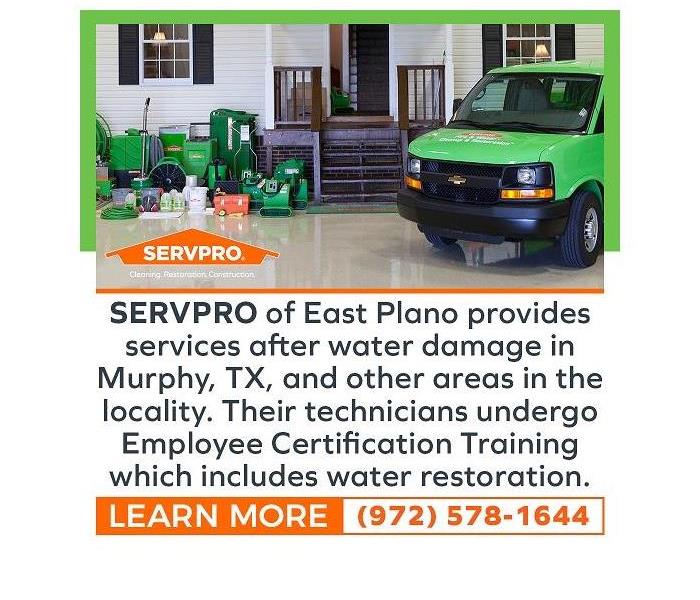 Blog Summary: SERVPRO of East Plano discusses the water removal step in the water damage restoration process.
Water damage is a widespread cause of property damage across the US. Whether due to bad weather and flooding or a plumbing leak within the home, water damage restoration must not be delayed. The extent of water damage increases with delays in water damage restoration. This is why swift work by a professional water damage restoration company is safe. SERVPRO® of East Plano offers water damage restoration in Murphy, TX. It is a local company with the advantage of being part of a brand recognized as a leader in the restoration industry. In this article, SERVPRO of East Plano describes water removal and its importance in the water damage restoration process.
What is water damage restoration?
Water damage restoration is the process that entails removing water from a property and restoring it to a preloss state. It includes multiple steps, each of which is important to ensure the best outcome of water damage restoration. So each step must be carried out with the utmost care.
Steps Of The Water Damage Restoration Process
Inspection and Evaluation
Water Removal
Drying and Dehumidification
Cleaning and Disinfection
Restoration and Repair
Water removal
Water extraction from furniture, furnishing, subfloors, and parts of the building structure is called water removal. Homeowners may use DIY methods like mopping to remove as much water as possible. But water removal is best done using water-extracting equipment by water damage restoration professionals. The water damage restoration technicians have specialized equipment designed to remove large quantities of water from a building. They include high-power water pumps and truck-mounted vacuums that remove large quantities of water swiftly. The professionals are trained to use different types of equipment to reach every nook and cranny of the building that might have been exposed to water damage. Moisture detectors are used to measure moisture levels, and infrared cameras may be used to detect hidden water damage in walls and ceilings. This will also enable water removal from hard-to-access or hidden areas affected by water damage.
Emergency water removal may commence immediately. High-performance submersible pumps and wet or dry vacuums are put to work.
During water removal, apart from actually removing the water, other activities may also happen.
Move-out: When a lot of restoration work needs to be done, belongings may be shifted away from the affected property for safe storage.
Carpet Inspection: The carpet and carpet pad will be inspected, and if needed, they are removed so that the subfloor is not affected.
When performed well, water removal leaves less water to be dried in the next step of the water damage restoration process. The time taken to dry the area will also reduce considerably. A thorough water removal reduces mold growth risk and secondary water damage.
Why is water removal necessary?
Any area that has sustained water damage must have water removal performed. The risk of complications is higher when water is left to stand or seep into a surface unattended. Mold growth, rusting of metal, rotting of wood, deterioration of materials, etc., are all such complications. FEMA cautions that in the aftermath of a flood, when surfaces are left exposed to moisture, mold can grow within 24 to 48 hours. When water is left to stand or surfaces are left moist for a longer time, the risk of mold growth also increases. The chances of mold leading to poor air quality and structural deterioration due to mold and water are also risks. So water removal is vital, and it must be done without delay.

To get a property back to a preloss condition as quickly as possible, a water damage restoration expert would greatly help. SERVPRO® of East Plano provides services after water damage in Murphy, TX, and other areas in the locality. Their technicians undergo Employee Certification Training which includes water restoration. This means that each step of the water damage restoration process, including water removal, is done with equipment that makes it fast and thorough. SERVPRO of East Plano can be contacted via email at dshaw@SERVPROheb.com or the phone at (972) 578-1644 for professional water damage restoration in Murphy, TX, that meets the highest industry standards. As it is locally owned and operated, SERVPRO of East Plano considers itself a part of the community they serve and are always ready to help.