Steps Homeowners Should Take After a Flood
10/18/2022 (Permalink)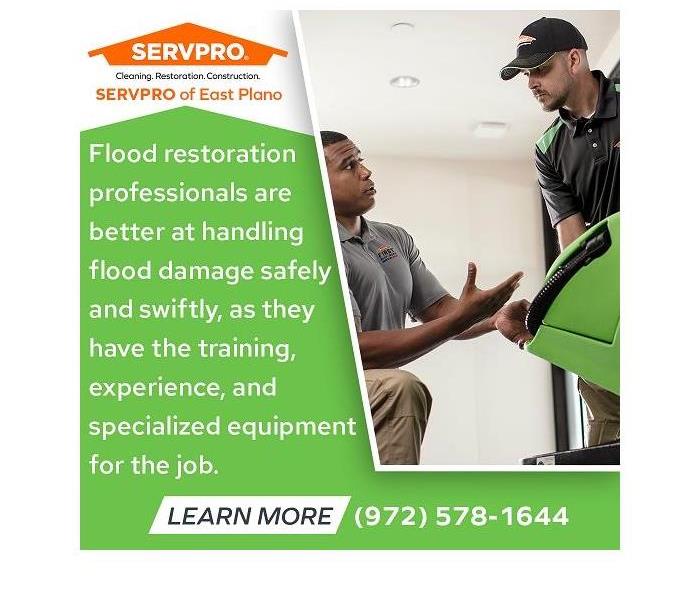 Blog Summary: The steps homeowners should take after a flood are listed by SERVPRO of East Plano.
A temporary overflow of water onto land that is usually dry is termed flooding. With the changes in the environment and climate, floods are the most common natural disaster in the US. Floods can be devastating and lead to dangers even after they are over. This is why flood damage must be handled properly. The aftermath of flooding can be stressful, and a professional flood restoration service would help make dealing with the situation easier and safer for homeowners.
SERVPRO® of East Plano is one of the trusted leaders in the restoration industry and offers storm damage and cleanup and flood restoration services in Parker, TX, and surrounding areas. As it is a locally operated company that is part of an extensive network, SERVPRO can handle disasters of any size and is always quick to reach. In this article, SERVPRO of East Plano shares what homeowners can do after a flood to stay safe and limit the damage. In places like Texas, flooding can happen near creeks, bayous, coasts, and river shorelines. Severe weather, like storms, heavy wind, and rain, can all increase the risk of flooding. Managing flood risk and responding to floods are expensive steps. It is essential that homeowners and businesses should take measures to minimize flood damage and stay safe during and after floods.
The instructions from authorities must be followed at all times in a flood situation, including when evacuation is needed and when to return after the flood. When venturing into flooded areas, personal protection should be taken care of. Wearing heavy gloves, boots, and protective clothes will help avoid contact with floodwater that is considered to be contaminated. When cleaning flood-affected areas, it is best to use a face mask if mold or debris may be present. However, flood restoration professionals are better at handling flood damage safely and swiftly, as they have the training, experience, and specialized equipment for the job.
Steps to take when returning home after a flood
Carefully inspect and observe the interiors and exteriors of the home for any damage that may be unsafe after flood damage, like any structure that is weak and may collapse.
Children and people with health issues must not enter flooded homes or areas where mold growth is suspected.
Since exposure to water can cause electrical hazards, turn off the electricity supply if that can be done safely. It is safer to avoid any contact with electrical equipment if they may have been exposed to water. If there is the possibility of wires in areas where there is standing water, people must not venture into that place. Professionals can handle this safely with precautions to avoid accidents due to electrocution.
When entering a home for the first time after a flood, matches or cigarette lighters must not be used. Gas may be trapped in buildings and may be inflammable.
If possible, the water source must be turned off or sealed off.
Call for help if needed to get the recovery process started. Renters may call their landlords to update them. Homeowners with flood insurance can contact their insurers to inform them that flood damage has occurred and flood restoration may be needed. It is best to confirm if the adjuster has to visit the home before the cleanup and flood restoration begins.
Before starting cleanup, it is good to document the damage so that there is a record and proof of the extent of the water damage. Photos or videos will be helpful.
Do not use flood water for anything, including washing dishes or cooking. Follow local authorities' instructions to know when the water supply is safe for drinking and bathing. Until authorities give the green signal, avoid using the water supply. Bottled, boiled, or treated water must be used for drinking, cooking, etc.
All food and bottled water that may have been in contact with floodwater must be discarded.
The above are just initial steps taken when returning to a home affected by floods. Further measures must be taken to clean flood-damaged homes. Though information on flood cleanup is available, a professional flood restoration service is better equipped to restore a flood-damaged home. Flood restoration in Parker, TX, is handled exceptionally efficiently by SERVPRO® of East Plano. They have highly trained technicians, and their emergency services are available 24/7, 365 days a year. SERVPRO of East Plano understands that flooding and water emergencies do not wait for business hours and are particular that emergency services respond immediately to disasters. Contact SERVPRO of East Plano at (972) 578-1644 at any time, on any day of the week, for fire and water emergencies.