Does Drywall Need To Be Replaced After Flood Damage?
11/10/2022 (Permalink)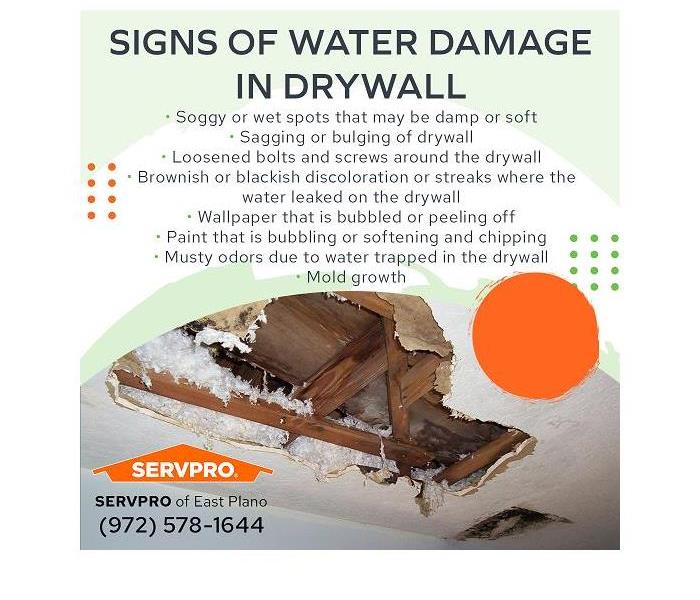 Blog Summary: SERVPRO® of East Plano shares some insight into whether drywall needs to be replaced after flood damage.
Homes can get flooded due to several reasons. Flood damage usually occurs due to water from a natural disaster (hurricane, heavy rain), including flash flooding, sump failure, roof leaks, etc. Flooding can result in a devastating situation that will probably need water damage restoration services.
Water damage refers to the losses that water intrusion causes, which enables the destruction of materials or objects. Destructive processes due to water can be the rotting of wood, rusting of metal, mold growth, etc. Drywall is a building material susceptible to water damage when flooding occurs. It is made up of sheets of gypsum board. It is used extensively in residential and commercial construction. Though it is sturdy, drywall is porous and can absorb water when exposed for long. Drywall is most likely to sustain water damage when it is exposed to water for any period of time. In this article, SERVPRO of East Plano explains why drywall needs to be replaced after flood damage. SERVPRO of East Plano is a locally owned and operated business that provides water damage restoration in Plano, TX, and surrounding areas. Their highly trained water damage restoration technicians use state-of-the-art equipment for water extraction and drying property. SERVPRO of East Plano ensures the swift restoration of residential and commercial property.
Signs of water damage in drywall
Soggy or wet spots that may be damp or soft
Sagging or bulging of drywall
Loosened bolts and screws around the drywall
Brownish or blackish discoloration or streaks where the water leaked on the drywall
Wallpaper that is bubbled or peeling off
Paint that is bubbling or softening and chipping
Mold growth
Musty odors due to water trapped in the drywall
When should drywall be replaced?
The drywall must be inspected thoroughly after any flooding or suspected water damage. If the flooding is major, the probability of water damage is high.
Slight dampness of drywall
If the drywall is only slightly damp, it may not need to be replaced. However, drying the drywall swiftly is essential. Pointing fans to the drywall may help dry it after stopping the water source. Opening windows may help circulate air and dry the drywall if the climate is not too wet and humid.
Soggy drywall
Since drywall is porous, it absorbs water. The more time it is exposed to water, the more water the drywall absorbs. When the drywall is soggy or starts to sag or bulge, it means a lot of water has been absorbed. The deformed drywall needs to be removed as it can collapse. Wet drywall can also lead to mold growth. Water damage restoration professionals recommend that wet drywall be replaced within 48 hours, as mold growth starts when surfaces remain moist for more than 24 to 48 hours.
Mold growth
Sometimes water damage may seem insignificant immediately, and the drywall may not appear wet. But, mold growth may occur later. Small black spots may appear on the surface, or a musty odor may be emitted. When mold is suspected, a water damage restoration specialist is needed to remove and replace drywall. These personnel are trained and have the protective equipment and devices to quickly, effectively, and safely handle water damage.
Replacing drywall may be simple for some. But, if the water damage was due to flood water that is considered to be contaminated, or there is a risk of mold growth, a water damage restoration company can be called in. They will remove and replace drywall without compromising on safety while ensuring the integrity of the structure of the building is improved. SERVPRO of East Plano is a trusted leader in the water damage restoration industry. Their skilled team provides customized solutions for residential and commercial water damage restoration needs. Irrespective of the size of the disaster, businesses, and homeowners who need water damage restoration in Plano, TX, and surrounding areas can contact SERVPRO® of East Plano on the phone number (972) 578-1644.