Can carpets and carpet pads be saved after water removal?
11/10/2022 (Permalink)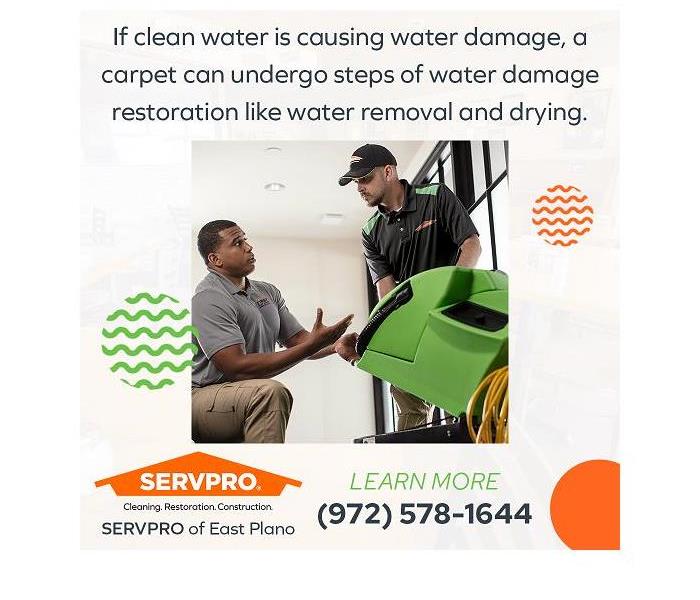 Blog Summary: SERVPRO® of East Plano explains whether carpets and carpet pads can be saved after water removal.
Water damage is an exceedingly common cause of property loss in the US. Water damage is estimated to affect 14,000 people on any given day across the country. Leaking pipes, clogged drains, malfunctioning appliances, faulty sump pumps, defects in the building, and flooding due to natural disasters can result in water damage. This can result in structural damage to buildings, destruction of building materials, and damage to any objects exposed to water, like furniture, furnishing, appliances, etc.
Carpets are used in homes to bring warmth, improve the room's acoustics, and add to the aesthetics. Carpet pads are used below the carpets to add to the carpets' comfort, shock absorption, warmth, and durability. Carpets must be kept dry, as moisture can lead to mold growth. Once carpets get moldy, they can be smelly, unhygienic, and cause health problems.
Water damage done by a water damage restoration professional is quicker and more effective. SERVPRO of East Plano is a franchise of a trusted leader in the restoration industry. They offer water damage restoration services in Murphy, TX, by highly trained technicians who follow IICRC standards and best practices. In this article, SERVPRO of East Plano discusses whether carpet and carpet pads can be reused after water removal.
Can carpets and carpet pads be saved after water damage?
It is advisable to restore and reuse things after water damage if possible. This saves money and is also a more sustainable choice. Several factors determine whether a carpet can be saved after water removal for further use. The age and quality of the carpet and how well it was installed will affect whether it should be saved. It may be better to discard an old, worn-out carpet rather than invest time and money in water removal and drying. Carpets that remained damp or soaked for more than two days are likely to have developed mold and may have to be discarded. The CDC cautions that mold growth occurs within 24 to 48 hours on surfaces left moist or wet.
Another consideration in deciding if the carpet can be reused is the type of water damage. If clean water is causing water damage, a carpet can undergo steps of water damage restoration like water removal and drying. However, water removal must be initiated as soon as possible to prevent the risk of mold growth. Heavily soaked carpets or carpets that have been wet for more than 24 hours may have mold growth already.
If greywater has affected the carpets, there is a lower probability of saving carpets. The carpet padding probably needs to be replaced. Water damage repair experts can do water removal with specialized equipment. They assess how long the carpets were exposed to water and the extent of damage before attempting to salvage them. After water removal, the carpets are dried and disinfected before being used.
Carpets and carpet pads that were affected by blackwater are discarded. Blackwater is highly contaminated, and it is too risky to attempt water removal and reuse of these carpets.
If there is a slight dampness, and the damage is due to clean water, homeowners may attempt to dry the carpet themselves. This option is possible only within 24 hours of exposure to water. Any more extensive or contaminated water damage is handled better by water damage restoration professionals.
Wet carpets undergo the process of water removal first. A submersible pump may be used for carpets submerged in water. High-power special wet vacuums can also be useful, but ordinary home vacuum cleaners are ineffective.
Professional water damage restoration will use industrial-grade dehumidifiers and air movers to dry the carpets. This equipment will promote air circulation and enable faster evaporation of water. Since moisture that spreads from carpet to carpet pad causes mold growth easily, the carpet pad may need to be replaced even when the carpet is saved.
Wet carpets are handled with care by water damage restoration technicians. Homeowners with water-damaged carpets that need water removal in Murphy, TX, and surrounding areas can get service from SERVPRO of East Plano. This company understands that each water damage situation is different. SERVPRO of East Plano has a step-by-step water damage restoration process that includes assessment, water removal, drying, cleaning and repair, and restoration. Trained technicians perform emergency water removal with specialized equipment that helps to reduce the drying time and prevent secondary water damage. They ensure carpet and carpet pad are inspected and removed if needed to protect the subfloor from water damage. Water damage restoration, including water removal in Murphy, TX, can be done with meticulous attention and without delay by calling SERVPRO® of East Plano on the phone number (972) 578-1644.