How to remove water from a home?
12/14/2022 (Permalink)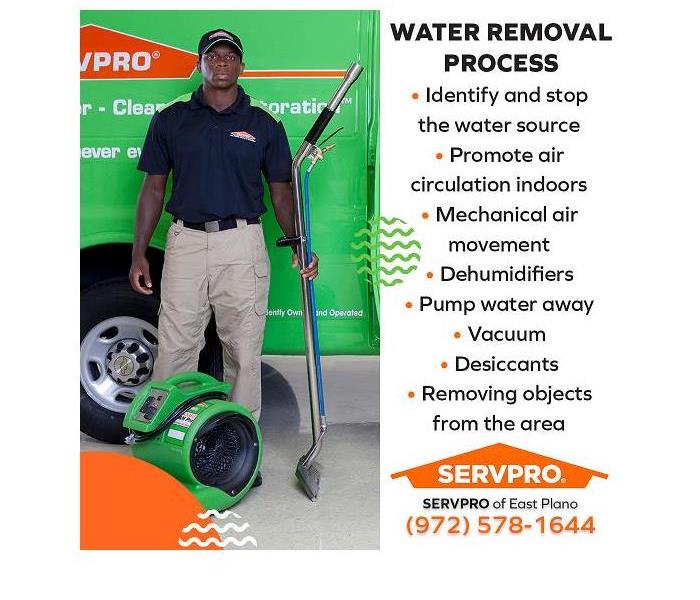 Blog Summary: SERVPRO® of East Plano shares some ways to remove water from a home in this article.
Water damage is estimated to affect 98% of basements in the U.S. during their life. This figure shows how common the problem is. Water damage must be dealt with immediately to prevent extensive damage. Prolonged exposure to water can cause structural damage. Mold growth is also a risk.
All steps in the water damage restoration process must be followed to ensure no residual moisture is left. Water removal is essential whether there is standing water or water soaked into the building and furnishing. Water removal involves removing excess water from areas affected by water damage. It prevents moisture from spreading, causing more structural damage, and reduces the time needed to dry the area. Water damage restoration specialist SERVPRO of East Plano serves Watters Crossing, Allen, TX, and surrounding areas. The company is locally owned and operated and quickly responds to water damage emergencies.
How can homeowners do water removal?
1. Identify and stop the water source
Locating the source and stopping water from intruding further is essential for effective water removal.
2. Promote air circulation indoors
Take steps to allow air to circulate more freely in the house. Opening doors and windows will improve air circulation. If affected by water damage, the doors of the cabinets and closets can be kept open.
3. Mechanical air movement
High-powered fans are available for rent, and they increase air circulation, which will speed up the restoration.
4. Dehumidifiers
Moisture in any space affected by water can be removed or sucked out by dehumidifiers. If the water damage is extensive or there is flood damage, dehumidifiers with large water trays can be used.
5. Pump water away
A sump pump is useful when there is standing water in a home. The submersible pump removes water from the house through a pipe or hose.
6. Vacuum
A wet vacuum helps suck water from rugs, carpets, and other materials saturated with water. It is important to remember that household vacuums are not suitable for water removal in these conditions.
7. Desiccants
Materials like silica gel are desiccants, and they absorb moisture. Bags or containers of desiccants to use for water removal are available.
8. Removing objects from the area
Removing soaked rugs, carpets, and furniture to a sunnier or drier place will help to dry them. Wet flooring may have to be removed to allow proper air circulation and ventilation to prevent mold growth.
When extensive restoration is needed, unaffected belongings can be moved to protect them. SERVPRO of East Plano offers an efficient move-out service during the water removal process.
Why is water removal best handled by professionals?

Though the above measures help in water removal, they are effective when the water damage is minimal. Professional water damage restoration is recommended for more extensive water damage or when a contaminated water source is involved. SERVPRO of East Plano provides water damage restoration, including water removal in Watters Crossing, Allen, TX. Water removal is done after inspection by highly trained technicians. This step removes the bulk of the water that has intruded into the home. SERVPRO of East Plano has highly-trained technicians who use truck-mounted and portable extraction units, powerful submersible pumps, and industrial-grade wet and dry vacuums for efficient water removal. They remove most of the water, which reduces the time needed to dry the area. The sooner the home is dry, the less the chance of secondary water damage and mold growth. Contact SERVPRO of East Plano on the number (972) 578-1644 for fire and water cleanup and restoration in Watters Crossing, Allen, TX.