What Is Water Damage Restoration?
10/9/2022 (Permalink)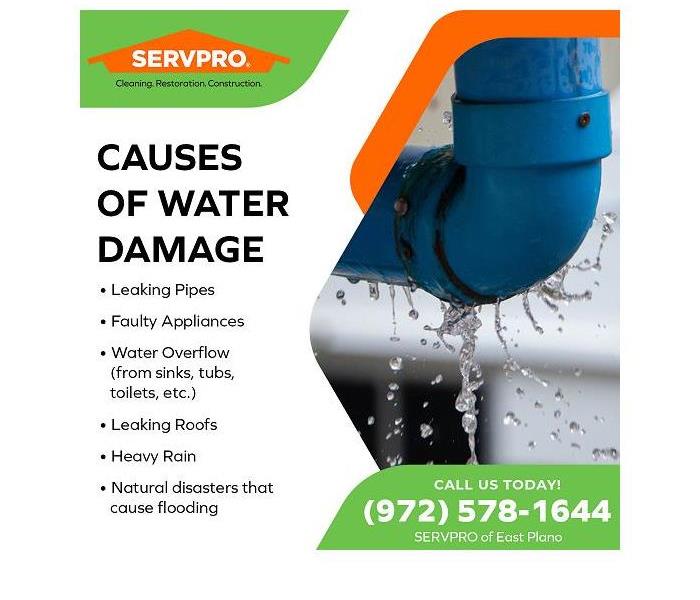 Blog Summary: SERVPRO of East Plano explains water damage restoration in this article.
Water damage is a more common problem than people like to believe. But statistics say that water damage emergencies affect approximately 14,000 people every day in the US. It is also estimated that 98% of basements will experience water damage in some form or the other.
Once water damage occurs, water damage restoration needs to be done. This is a time-sensitive requirement, as prolonged exposure to moisture worsens the extent of water damage. The risk of mold growth also increases when there is a delay to reverse the water damage. SERVPRO® of East Plano is a franchise of SERVPRO that has a history of 50 years and is a leader in the cleaning and restoration industry. SERVPRO of East Plano provides swift water damage restoration services by highly trained restoration professionals. In this article, SERVPRO of East Plano outlines the water damage restoration process.
Any loss to property, systems, and materials that get destroyed after water intrudes into a house or building, can be termed as water damage. The severity of water damage varies according to several factors. Water damage can result in metal rust, wood rotting, damaged fabrics, etc.
Causes of water damage
Leaking Pipes
Faulty Appliances
Water Overflow (from sinks, tubs, toilets, etc.)
Leaking Roofs
Heavy Rain
Natural disasters that cause flooding
What to do immediately after water damage?
The safety of family members and inhabitants of the affected building.
You can take the following steps, only if you can execute them safely while waiting for help.
Contact SERVPRO of East Plano at (972) 578-1644 for immediate assistance. We are available 24/7 and are fully equipped to handle any water emergency.
Stop the water if the source can be located and if it can be done safely.
If possible at all, safety circuit breakers can be turned off.
Excess water can be mopped, and objects can be removed to prevent further water damage, if possible.
It is safe to avoid any use or contact with electrical systems or equipment.
Steps In water damage restoration
1. Emergency contact
Emergency services can be contacted as needed, or a water damage restoration specialist like SERVPRO of East Plano that handles water damage emergencies. On the call itself, a water damage restoration professional would understand the specifics of the situation and schedule an inspection as soon as possible.
2. Inspection and assessment
Water damage professionals inspect the home and locate the source or origin of the problem. Specialized equipment like moisture detectors or hygrometers is used to assess the water damage and decide how much water damage restoration work is needed and how much time is needed. The water damage professionals classify the water damage and categorize the type of water causing damage according to industry standards.
3. Water removal
Standing water leads to further damage and can cause structural deterioration. So, water removal needs to be done as fast as possible. Water damage restoration companies use industry-grade, high-powered pumps and vacuums to remove absorbed and standing water from the affected areas. Submersible pumps, truck-mounted vacuums, and portable wet or dry vacuums are all used to ensure quick and thorough water removal.
The water or moisture levels are reassessed after this step. Irreversibly damaged materials may be removed or disposed of.
4. Drying and dehumidification
Once visible water is removed, the drying process can begin. Water damage restoration companies like SERVPRO of East Plano have industrial-quality air movers or dehumidifiers that contain water. These may also be areas or objects that are difficult to access. The moisture levels will be monitored in walls, floors, furnishing, etc., to ensure that the home is as dry as required.
5. Cleaning, sanitizing, and deodorization
Since water damage restoration aims to preserve as much of the homeowner's personal belongings and property as possible, cleaning and sanitization are very important. SERVPRO of East Plano uses specially formulated products, industry-leading equipment, and industry-accepted techniques that work in cleaning and sanitizing. Cleaning includes various forms like spray cleaning, dry cleaning, and wet cleaning. Cleaning techniques like foam, abrasion, or immersion cleaning are employed as indicated.
5. Final restoration
After ensuring the property is dry and clean, the water damage restoration professionals work to return your home to a pre-damage state. While irreversibly damaged things are disposed of, restorable materials and objects are retained.
Water damage can be very overwhelming emotionally and financially. SERVPRO of East Plano is a water damage restoration company that understands all these implications of a water-damaged home. The company's highly trained restoration specialists genuinely care about customers and their properties. The navigation of the insurance claims process is also better handled by such an experienced and recognized company. Homes or businesses who need water damage restoration in Plano, TX can contact SERVPRO of East Plano at (972) 578-1644. They can be assured that with this leader in the cleanup and restoration industry, their properties are in safe hands.